History of the shipyard
The shipyard was founded in 1799 by Friedrich Lösche with the support of his father. First ships were built out of wood, and their size varried between 50 and 100 tons. Later on it was possible to build ships up to 500 tons. In 1850 Andreas Lösche, the son of Friedrich Lösche, took over the administration of the shipyard and 44 years later passed it on to his son. In 1890 the construction of steel ships was included in the range of products that were offered. The shipyard was able to produce steel ships with a size up to 100 tons and a length up to 80 meters. At that point of time more than 50 staff members were employed. In 1903 Hermann Lösche, the current boss, died suddenly and left his 19 year old son Hermann junior in charge of the company. During World War I and World War II the shipyard was luckily spared from destruction, but had to participate in the reparations.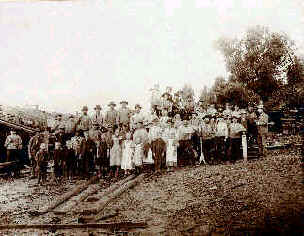 The shipyard workers and their families at the christening of the first ironclad ship round 1890
Hermann Lösche was the CEO in fourth generation untill 1964 when his son in law Günther Barthel took over. In 1972 the shipyard was socialised and carried on as a subsidiary of the company "VEB Schiffsreparaturen Berlin". At that time the shipyard did preliminary work for the shipyard Genthin, and constructed new ferries for the rivers Havel and Saale. Twelve staff members were employed.
After the Reunification of Germany in 1990 the shipyard was reaquired by Hermann Barthel who started its step-by-step reconstruction. He is the sixth generation of the Barthel/ Lösche family working for the shipyard.

Modernized shipyard premises in December 2004
Since the Reunification in 1990 besides the ongoing production, repairs, and modernizations of more than 100 ships we managed to remodel the shipyard premises fundamentally. In only three years (1996-98) two shipbuilding halls were constructed. One of them was extended in 2000 by 25 meters.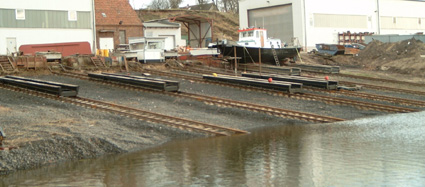 New slipways in February 2005
In the previous two years we renewed the slipways. Nowadays it is possible to construct, reconstruct or repair ships with a length up to 80 meters.